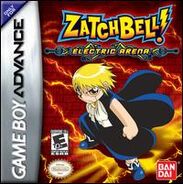 Zatch Bell!: Electric Arena (金色のガッシュベル!! - うなれ!友情の電撃 - Konjiki no Gash Bell!! - Yuujou no Zakeru) is a fighting game based on the Zatch Bell! (Konjiki no Gash Bell!!) anime/manga that was released on Game Boy Advance[1] in the U.S. and Japan. It was developed by Banpresto and published by Bandai.
Game Modes
Edit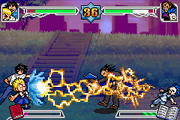 Story Mode:
In this mode we play as Zatch and Kiyo, in a total of 7 fights that's follow the order of events that occurred in the Anime/Manga.
Free Battle:This is a traditional one-on-one battle. Choose any character and stage and begin fighting immediately.
Challenge Mode:In this mode you choose one of the characters and fight against 7 other characters, life is fully recovered every match, if you defeat all 7, you win the Challenge Mode.
Survival Mode:This mode is almost equal to Challenge Mode, you choose a character and fight with other 7, the only difference is that with each fight, life does not fully recover with each match
Mini-Games
Edit
Naomi Attack! In this Mini-Game you will have to run from Naomi, the girl who torments Zatch every time he goes to the park, quickly pressing the A and B buttons.
Create a Volcan! In this Mini-Game you will have to mount Volcano, Zatch's friend, which is a puppet made of a box of daisies and toothpicks, you will have to press the buttons you send, for example, it appears: R, then you will have to press R, But it appears in sequences, for example, RRRBALL, go tightening everything that appears until you win!
Ponygon's Chomp Chomp! In this Mini-Game you will have to help Ponygon, a mamodo horse that lives in Zatch's house, to bite Kiyo's hand, when Kiyo's hand is close to his mouth, press A or B and then you will have to keep squeezing A and B very quickly until you reach a certain number of Bites.
OOF Iron Folgore In this Mini-Game, you will have to help Folgore, a famous Italian actor and singer, to divert from the bullets of a gang in his newest film "OOF Iron Folgore", similar to Create a Volcan, you will have to Press the buttons that appear on the screen.
Zatch Collection
Edit
The Zatch Collection is the items you collect by playing, items can represent a funny scene in Anime even from an object that appears in Anime. Here's how to get some of them:
* Volcan 300 - Complete the history mode of one without losing.
* Volcan (Mountain Version) - play the game "Create a Volcan !!" # 2 is the easy way.
* Volcan (Doctor Version) - play the game "Create a Volcan !!" In normal mode.
* Lori wreath of flowers - play Challenge Mode with Lori / Kolulu.
* Tina - play the game "Create a Volcan !!" In hard mode.
Characters
Edit
Kolulu /Lori
Kanchome/Folgore
Tia/Megumi
Wonrei/Li-en
Rops/Apollo
Brago/Sherry 2
Zeno/Dufort
Ponygon/Raiku
Zatch/Kiyo Rauzaruk
Ad blocker interference detected!
Wikia is a free-to-use site that makes money from advertising. We have a modified experience for viewers using ad blockers

Wikia is not accessible if you've made further modifications. Remove the custom ad blocker rule(s) and the page will load as expected.