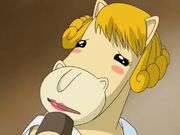 Ponygon's mother, whose real name is unknown, is a pony-like mamodo and the mother of Ponygon (real name "Schneider"). Unlike her son, she is old enough to be capable of speech and is very kind to her son, constantly assuring him that his book owner would be a nice person. She made Ponygon a rope case so that he could carry his book safely about on his back while he searched for his partner. The idea worked well until Kiyo unknowingly cut the rope, angering Ponygon. Not much is known about Ponygon's mother or father as she they are only seen in flashbacks or when Ponygon is trying to tell someone that his real name is Schneider.
Gallery
Ad blocker interference detected!
Wikia is a free-to-use site that makes money from advertising. We have a modified experience for viewers using ad blockers

Wikia is not accessible if you've made further modifications. Remove the custom ad blocker rule(s) and the page will load as expected.