She only appears in a flashback in
Konjiki no Gash Bell Gaiden: Friend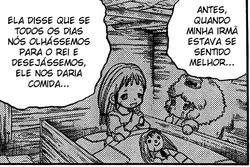 History
She only appears in the Muumu's flashback. she always told him that if he asked for food while facing toward the King Mamodo, he will bring food to them. But she was getting sick and died. After that, Muumu doesn't believe that the King is a good person.
Ad blocker interference detected!
Wikia is a free-to-use site that makes money from advertising. We have a modified experience for viewers using ad blockers

Wikia is not accessible if you've made further modifications. Remove the custom ad blocker rule(s) and the page will load as expected.