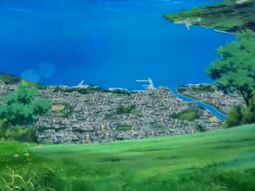 Mochinoki City (都市 モチノキ, Toshi Mochinoki) is a fictitious city located on Japan, in the Konjiki no Gash Bell!! series in both manga and anime. The place is most known for being the one with most episodes in there. It's also where the main protagonists Zatch and Kiyo live, and because of this, many mamodo went there only to fight the "crybaby". During the Mamodo Battle, this place was the one with majority of the battles, after the Devolo Ruins. On the city are also located many popular places, like the Mochinoki Park and Mochinoki Middle School.
| | |
| --- | --- |
| | Zatch is angry because this page is lacking content. Please add content to calm Zatch down! |
Ad blocker interference detected!
Wikia is a free-to-use site that makes money from advertising. We have a modified experience for viewers using ad blockers

Wikia is not accessible if you've made further modifications. Remove the custom ad blocker rule(s) and the page will load as expected.