Jiou Renzu Zakeruga

Zatch Bell and Kiyo Takamine
Japanese Name:
Jiou Renzu Zakeruga (ジオウ ・レンズ ・ザケルガ)
Type:
Attack
Episode:
N/A
Chapter:
307
Video Game:
N/A

| | |
| --- | --- |
| | Lightning |

Description: Jiou Renzu Zakeruga is one of Zatch's spells. It creates a large, serpentine dragon made of lightning with four large blades on the sides of its head, and large scales at various points on its body, two comparatively small clawed hands, hard scales on various regular parts of its body, and many spikes on its tail. The slim form makes the dragon very aerodynamic and agile, allowing it exceptional speed; it attacks using this speed and by shooting its horns and scales. It can also function as a sort of drill as it did in its first use, to help Ponygon and Kafka Sunbeam escape from Shin Kuria Seunousu Baadorerugo's final attack.
Zatch Bell and Kiyo Takamine's Other Spells: Zakeru, Rashield, Jikerdor, Baou Zakeruga, Zakeruga, Rauzaruk, Zagurzem, Ganreizu Zakeru, Teozaker, Baou Kurou Disugurugu, Maazu Jikerudon, Ekuseresu Zakeruga, Shin Beruwan Bao Zakeruga, Barudo Forusu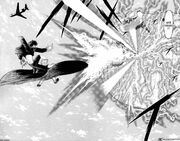 Ad blocker interference detected!
Wikia is a free-to-use site that makes money from advertising. We have a modified experience for viewers using ad blockers

Wikia is not accessible if you've made further modifications. Remove the custom ad blocker rule(s) and the page will load as expected.