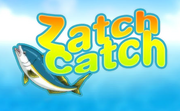 Two
flash games
were made for the American
Zatch Bell!
website:
Boing Boing Folgore is a game like dance dance revolution, where arrow keys have to be pressed at the right time in time to Parco Folgore's two songs from the series.
Zatch Catch is a game where you knock yellowtail fish out of the water trying to get them to land in Kiyo's boat.
The American site has stopped working, but the games were also available on the French site Very Zatchbell but the fan website stopped working after 2015.[1]
References
Ad blocker interference detected!
Wikia is a free-to-use site that makes money from advertising. We have a modified experience for viewers using ad blockers

Wikia is not accessible if you've made further modifications. Remove the custom ad blocker rule(s) and the page will load as expected.