Ancient Mamodo
Erujo
エルジョ Erujo

Mamodo Stats
Age:
7
Gender:
Male
English Actor:
Japanese Actor:
Nanaho Katsuragi
Current Partner Stats
Name:
Francois Cardan
Age:
{{{partner age}}}
Gender:
{{{partner gender}}}
English Actor:
{{{partner english actor}}}
Japanese Actor:
{{{partner japenese actor}}}
Previous Partner Stats
Name:
{{{original partner}}}
Age:
{{{partner age}}}
Gender:
{{{original partner gender}}}
English Actor:
{{{partner english actor}}}
Japanese Actor:
{{{original partner japenese actor}}}
Mamodo Team Stats
The Mint Green Book

Evil

Book Burned In Episode 77 And In Chapter 108.
Debut Episode: 55
Debut Chapter: 105

| | |
| --- | --- |
| | Light |

| | |
| --- | --- |
| | Laser |

Book Burned By: Brago and Sherry Belmont
Erujo is one of the
ancient mamodo
sealed in a stone slab by
Goren of the Stone
.
History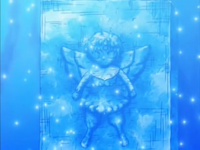 Erujo and his partner Francoise Cardan are controlled by Zofis. They are part of the squadron of ancient mamodo commanded by Penny, as she ordered Erujo,
Boru Bora
and
Dogmos
to attack Zatch and burn his book. He first used
Biraitsu
but Zatch use Rashirudo. Then Erujo used
Bireirudo
with Dogmos
Grandsen
and Bora Bora
Ganzu Garon
and while Zatch used Rashirudo for protect himself. However, the bireirudo broke the rashirudo and he followed up with
Ganzu Biraitsu
. After this Zatch was forced to use
Baou Zakeruga
but Eurujo used
Daibara Biranga
and Bora Bora
Gigano Garanzu
suddenly
Tia
appears to help Zatch. With Tia's help Zatch defeated Bora Bora and Dogmos but Eujo escapes with Penny. Erujo was the only one of the squad who managed to survive. Erujo and Francoise are then rescued by Uri. Later, Erujo is defeated by
Brago
.
Spells
Biraitsu
The Laser Beam Spell

| | |
| --- | --- |
| | Light |

| | |
| --- | --- |
| | Laser |

Japanese Name:
Type(s): Attack
Episode: 19
Chapter: 29
Description: A powerful beam of light is shot at the enemy.
Known user(s):
Bireirudo
The Laser Beam Spell

| | |
| --- | --- |
| | Light |

| | |
| --- | --- |
| | Laser |

Japanese Name:
Type(s): Attack
Episode: 55
Chapter: 105
Description: A beam in the shape of a ring is thrown at the enemy. It it a stronger form of Biraitsu.
Known user(s):
Ganzu Biraitsu
The Various Laser Beam Spell

| | |
| --- | --- |
| | Light |

| | |
| --- | --- |
| | Laser |

Japanese Name:
Type(s): Attack
Episode: 55
Chapter: 106
Description: Several Biraitsu shots are fired simultaneously.
Known user(s):
Daibara Biranga
The Light Sphinx Spell

| | |
| --- | --- |
| | Light |

| | |
| --- | --- |
| | Energy |

Japanese Name:
Type(s): Attack
Episode: 55
Chapter: 106
Description: Summons a giant beast with wings similar to a sphinx and launchs a high light from his head.
Known user(s):