| | |
| --- | --- |
| | Zatch is angry because this page is lacking content. Please add content to calm Zatch down! |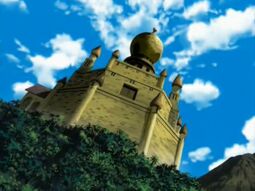 Devolo Ruins
(デボロ 遺跡 in japanese) are ruins of an place from Peru, South America. It's also where was located the
The Moonlight Stone
, the main objective of the Ancient Mamodo Arc. The Devolo Ruins was a secret hideout for all
Ancient Mamodo
can heal themselves, but was discovered for
Kido and Dr. Riddles
, who decided to make an invasion to it, by making a team. It only appears during the Ancient Mamodo Arc, as isn't even mentioned in other Arcs.
Zofis, under the alias of "Milordo-Z" (or "Lord" in the Japanese version), hid here. This was where he and Koko gave commands to the Ancient Mamodo and where they stayed. Zatch and Kiyo, Tia and Megumi, Kido and Dr. Riddles, Wonrei and Li-en, Ponygon and Sunbeam, and Kanchomé and Folgore tried to navigate through these ruins to get the chance to defeat Zofis and to cure all the hearts of the human partners who were being manipulated by him by destroying the Moonlight Stone inside it.
Ad blocker interference detected!
Wikia is a free-to-use site that makes money from advertising. We have a modified experience for viewers using ad blockers

Wikia is not accessible if you've made further modifications. Remove the custom ad blocker rule(s) and the page will load as expected.